HVAC Alliance Expert can provide assistance for homeowners who are planning to purchase new HVAC units for their living space in 2023. You do not have to keep on looking for the "best HVAC company near me" because our service company can handle all your HVAC concerns for you. We ensure to take into account all the required 2023 HVAC regulations during installation as well.
Changes to energy efficiency regulations will take effect on January 1, 2023. Every six years, the Department of Energy (DOE) examines appliances to determine whether minimum efficiency regulations and testing standards should be changed. As with testing processes, the minimum efficiency for central air conditioners and heat pumps will improve in 2023. To ensure that you get the needed information for your HVAC system in 2023, you can look for "HVAC services near me" online.
What are the changes to HVAC regulations?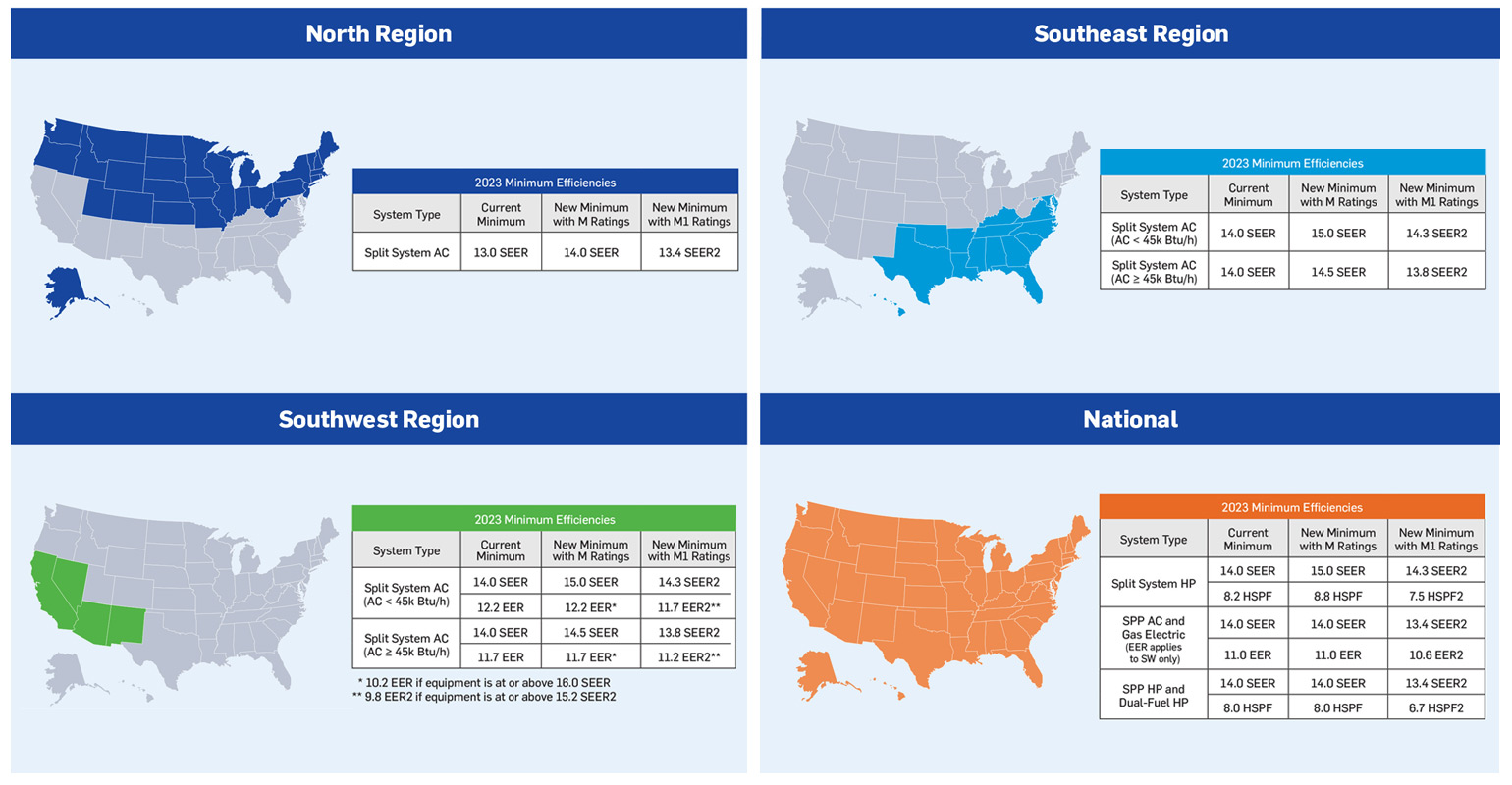 In 2023, all areas (North, South, and Southwest) will grow by the equivalent of one SEER, resulting in less power required for the same amount of cooling. The North will get a 13 to 14 SEER rise, while the South and Southwest will see a 14 to 15 SEER increase. Heat pumps will be upgraded from 14 to 15 SEER on a countrywide scale. This is an increase of 7-8% for SEER on all fronts.
Seasonal efficiency is now listed as SEER2 on the new labels. This is due to updated HVAC system testing protocols. To better mimic field circumstances, the revised processes use a greater default external static pressure. Higher static demands more watts, lowering the numeric efficiency rating. As a result, efficiency metrics will be renamed SEER2, EER2, and HSPF2 in 2023.
As of January 1, 2023, all new items must be tested in accordance with these new methods and criteria to be manufactured and marketed.
Why are there changes to HVAC regulations?
To establish the correct balance, the DOE assesses current technology, its efficiency, and its cost on a regular basis. More efficient systems use less energy to heat and cool homes and businesses and hence cost less to operate, but they normally have a greater initial cost.
Things to consider as a contractor:
In order to correspond with the shift, new, redesigned equipment will begin to appear before 2023. Many of these systems will resemble the ones now in use. It is vital to remember that the 2023 standards only apply to new systems; current systems that are already installed and functional will not need to be changed.
As a contractor, you must prepare for this transformation by being familiar with the various federal minimum efficiency standards and compliance requirements that vary by location. Understanding the new HVAC standards and metrics will provide you and your clients with security and familiarity as you implement these improvements. As 2023 approaches, you may prepare for the higher efficiency requirements by understanding your region's standards and new technological details. The DOE website will have relevant materials on the subject, and your employer and manufacturer may provide training classes or other resources to assist you in getting started.
Things to consider as a building owner:
Knowing which units you, as building owners and operators, are acquiring and when they will be installed is beneficial. Consider the following before making any purchases, especially as you approach the spring and summer months:
If you acquire units that meet pre-2023 specifications, they should already be installed on December 31.
The units you buy should meet the new minimum efficiency criteria that go into effect on January 1.
Things to consider for other individuals involved in the HVAC industry:
If you work in the HVAC industry, now is the time for HVAC technicians to learn about the new minimum efficiency requirements and the laws that apply to the regions they serve. It will also become increasingly crucial for contractors in the coming months to understand which types of HVAC systems are available or when they will become available—and to be sure about the delivery timeframe. After the January 1 deadline, contractors will have to make intelligent decisions about which HVAC models they will or will not be able to install as we move further into the new year.
With this in mind, the HVAC business must continue to educate its consumers and future customers since these changes are imminent. Contact clients to ensure they understand the standards for 2023 and beyond. Inquire about the status of their existing HVAC systems and consider offering to inspect them. These are additional opportunities for industry leaders to communicate the message of change and the possible impact these new laws may have on everyone, from single-family homeowners to multi-family and commercial property owners.
What does this say about the affordability of HVAC systems?
HVAC product purchases will result in price hikes that will most likely continue to rise throughout the year. We must also anticipate that supply chain concerns will continue to have an influence on product acquisition. Higher performance components, new fan systems, and larger unit chassis sizes will require an increase in commodities for larger systems. This translates into increased acquisition expenses.
Are there penalties for noncompliance with the new HVAC regulations?
Penalties for noncompliance with the 2023 efficiency criteria are expected to be applied, as with earlier standards. The DOE will continue to enforce laws, and noncompliance will cost manufacturers, distributors, and contractors money. For individuals discovered selling or installing non-compliant equipment, these penalties may include out-of-pocket equipment replacement or substantial fines. Keep thorough records of information relevant to sales and models of equipment being installed so that you can refer to them in the future.
If you're a homeowner and need further assistance or want to get your pre-2023 HVAC system inspected, refer to our other blog articles for the new HVAC regulations or contact our HVAC technicians today.